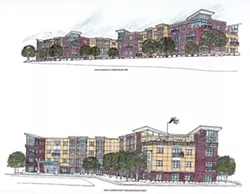 IMAGE PROVIDED BY MARK IV ENTERPRISES
Design for Mark IV's housing development on Karges Place in the Swillburg neighborhood.
Mark IV Enterprises wants to build a 101-unit, four-story apartment complex on Karges Place, next to 490 at the Goodman exit. The project site is in the Swillburg neighborhood on vacant land that once held a shoe factory. Mark IV bought the land from the state.
The complex, which is temporarily being called 601 South Goodman, would have 15 studio apartments, 55 one-bedroom apartments, and 31 two-bedroom units ranging in size from about 560 to 1,100 square feet of space. Rents would likely range from $700 to $1,600 a month.
The land has been vacant for more than 50 years and the Swillburg neighborhood is excited to see something happening there, says Judy Hay, who is on the leadership team for the Swillburg Neighborhood Association.
"From the neighborhood point of view, anything is better than what has been there, which is really nothing and looks terrible," she says.
Bike racks, bike storage, fitness center, and at least one electric vehicle-charging station are planned. And there may be a station for the city's planned bike-share system, too.
The plan should be submitted to the City of Rochester soon, with tentative plans to start environmental remediation this fall.