Most voters in Monroe County know who Joe Morelle is. He's spent the past 30 years in elected office, the vast majority of them in the State Assembly. Morelle has had a seat there since 1991 and has served as its majority leader – second in command to the speaker – since 2013.
But this year he's running to represent the 25th District in the US House of Representatives, the Congressional seat held for 16 terms by the late Louise Slaughter. That district covers most of Monroe County.
Morelle's as close to a Slaughter heir apparent as the Democrats have; she was an early mentor to him. However, he faces a formidable challenge from Jim Maxwell, Rochester General Hospital's neurosurgery chief, who, early in his campaign, told local media he was "born a Republican."
Maxwell has no political or government experience, which he plays up as an asset. And he's using Morelle's long political background as a weapon against him, tying him to former Assembly Speaker Sheldon Silver, who's been convicted on corruption-related charges, and painting Morelle as a creature of the Albany swamp. Maxwell has also criticized Morelle for accepting large amounts of political action committee money, though he's pulled in PAC contributions, too.
At points, Maxwell has criticized extreme partisanship in Congress and called for civility. He's positioning himself as an independent-minded, common-sense candidate, and he invokes an old cliché in his campaign slogan: "It doesn't take a brain surgeon to know Congress is broken – but it just might take one to fix it."
While on the surface the Morelle-Maxwell race is about individual candidates, it has broad, national implications. It's one of hundreds of Congressional midterm contests across the country, and the outcome of these elections will determine the balance of power in the capital.
If Republicans win enough House and Senate races to keep control of Congress, they will advance the agendas of their party and President Donald Trump at full bore. If Democrats win the House, the Senate, or both chambers, they can keep the GOP in check and more effectively block Trump administration policies.
Republicans would love to pick up New York's 25th District House seat, which Gates Supervisor Mark Assini almost snagged in 2014. If Democrats are to have any hope of taking control of the House, they need to keep every seat they can.
The race hasn't had the open intensity of past 25th District contests; the 2012 race between Slaughter and former Republican County Executive Maggie Brooks featured a few rounds of dueling press conferences and played heavily in the local media.
But the campaign landscape has changed a lot over the past few years. Candidates have been using increasingly targeted social media campaigns to reach voters directly, while still employing traditional tactics such as television ads, direct mail, town halls, and door-to-door canvassing. And the latest campaign finance filings, which cover contributions and spending through the end of September, show that neither candidate is taking this contest lightly. The race has already passed the $2 million mark, and the candidates are still raising and spending. Inevitably, voters will be pummeled with a flurry of TV and internet ads between now and Election Day on November 6.
Morelle alone raised just shy of $1.5 million through the end of September, of which he spent around $1.2 million. For the same time period, Maxwell raised about $890,000 – much of it his own money – and spent approximately $512,000.
A mid-October poll from Spectrum News and Siena Research Institute showed Morelle with a 17-point lead over Maxwell, which is lower than the 24-point lead he had in a previous poll. The poll also shows that voters have become more familiar with Maxwell, which is likely the reason for his gain. In an August Siena poll, 71 percent of respondents had no opinion of him or weren't familiar with him, but that number has since dropped to 49 percent.
The poll was based on interviews with 465 likely 25th Congressional District voters, according to a press release from Siena.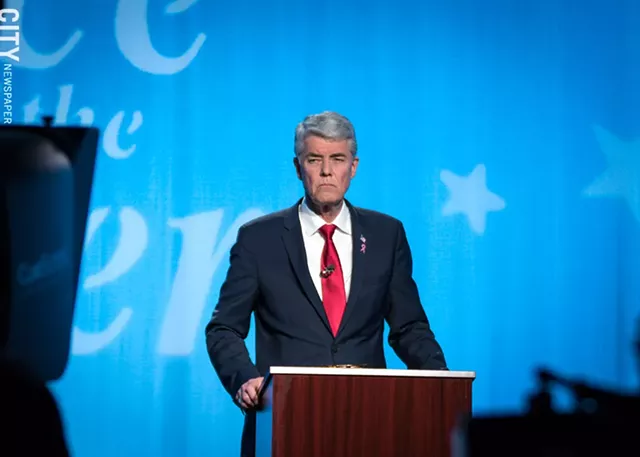 PHOTO BY RYAN WILLIAMSON
Republican Jim Maxwell
Maxwell originally planned to run against Slaughter, and he had announced his candidacy prior to her death. By February, he'd picked up the Conservative Party's endorsement and subsequently the GOP's backing; Assini was preparing for a third run against Slaughter but bowed out after Maxwell got the Conservatives' support.
Maxwell has focused largely on health care and taxes. He says he believes the national debt is too high and that Congress needs to pass balanced budgets. And he supports the tax plan passed earlier this year by Republicans and signed into law by Trump; in a recent press release he credited it with "leading to massive economic growth nationwide."
Health care is a complex issue, and Maxwell builds off of his experience as a doctor and surgeon when he discusses it, though he speaks in general terms. Health care is too expensive and the current system is unsustainable, he has said.
During his June press conference, he told reporters that he favors a "patient-centered system" that lowers costs and keeps decision-making between people and their doctors. He opposes Medicare for All and single-payer approaches to health care coverage, and on WXXI's Connections program, he proposed an arrangement where employers give their workers money to buy their own health coverage. The companies would get a tax deduction and the employees would have more choice in coverage, he said.
He's also said that he agrees with a Supreme Court decision that upheld the authority of the president to limit immigration from certain countries. The president's hands shouldn't be tied when it comes to protecting Americans' safety, but people should not be targeted on the basis of religion, ethnicity, or sexual orientation, he said.
During his June press conference, Maxwell said he's "a staunch supporter of the #metoo movement" and that he wants to advocate for equal pay, family leave, and pre-kindergarten programs.
On Connections, he told host Evan Dawson that he is "pro-life, with exceptions." He said he thinks abortion is murder but that women shouldn't be penalized for having abortions. He largely dodged Dawson's question on whether he thinks Roe v. Wade ought to be overturned. He also issued a statement congratulating Brett Kavanaugh after he was confirmed to the Supreme Court. Kavanaugh is an "eminently qualified jurist" and a good addition to the court, he said.
Maxwell has criticized President Trump for the way he's talked about women and race and for his tendency to publicly attack critics. But he's said he believes that on the whole, Trump has been good for the country, and he's applauded the president on things such as the renegotiated NAFTA trade agreement.
He's also said that he's an avid hunter and staunch supporter of the Second Amendment. On his website, he says he supports "common sense gun regulations," but he doesn't elaborate on what policies or reforms he might support.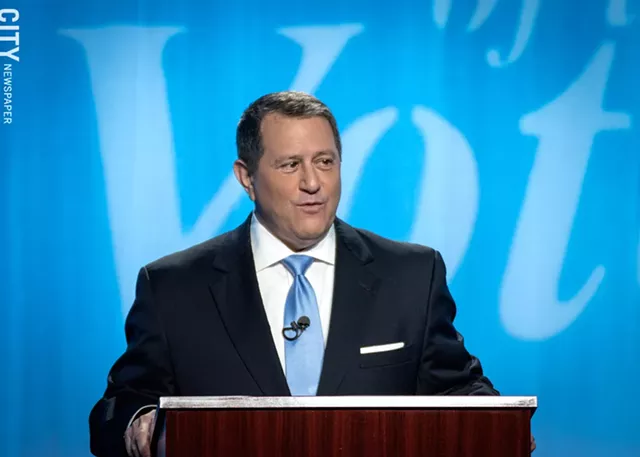 PHOTO BY RYAN WILLIAMSON
Democrat Joe Morelle
Morelle is emphasizing his decades worth of public service, a career that spans not only his tenure in the Assembly, but a stint in the County Legislature before that, as well as nine years as Monroe County Democratic Committee chair.
He's also stressing his commitment to staple Democratic issues, such as universal health care, reproductive rights, gun law reform, LGBTQ rights, and undoing the Supreme Court's decision on Citizens United, which he says "has undermined American democracy at its core."
Morelle backs a completely different approach to health care coverage than Maxwell. He supports the Affordable Care Act, including the requirement for everyone to get coverage. And beyond that, he favors a universal coverage approach developed by the liberal Center for American Progress, called Medicare Extra for All.
Under Medicare Extra for All, the federal government would offer Medicare plans with comprehensive coverage that would be open to everyone; such plans are currently available only to people over 65 or younger people with certain disabilities. The plans would have sliding-scale premiums that would never exceed 10 percent of a family's income, and co-pays would also be set on a sliding scale. Employers could cover the costs if they chose to.
Morelle also supports bills that would require public and private health plans to cover abortion procedures; that would provide for 12 weeks of paid family leave for births, adoptions, and family or medical matters; and that would establish new workplace harassment protections. He also supports equal pay legislation and renewing the Violence Against Women Act.
Morelle wants Congress to make DACA – the Deferred Action for Childhood Arrivals program – permanent. Under DACA, certain undocumented people who were brought into the country as children are provided a work permit and have legal protection from deportation. To get DACA status, people have to attend or have graduated from a school or have been discharged honorable from the Coast Guard or military.
Morelle opposes Trump's proposal for a border wall and supports comprehensive immigration reform.
"We do have to protect our borders," Morelle said in an interview earlier this year. "I think that's a fair thing. But we should be much more rational about letting people who want to come to the United States come here. We'll all say it because it's true: it's what defines America in a good way."
On gun-law reforms, Morelle says Congress needs to ban bump stocks as well as the sale of so-called assault weapons and high-capacity magazines. It also needs to pass legislation requiring criminal background checks for all retail and private gun sales, prohibit anyone convicted of domestic violence or stalking from owning a gun, and strengthen penalties for anyone convicted of making a straw purchase, he says.
"It's not OK to say you can have no constraints on the Second Amendment," Morelle says. "We have constraints on the First Amendment. We have constraints on every amendment."
Morelle also says the federal government needs to address climate change through carbon emissions standards and investments in renewable energy development. He also wants the US to rejoin the Paris climate accord.
The 27th House District has an extremely high-profile race: Nate McMurray, the Democratic town supervisor for Grand Island, and Reform Party candidate Larry Piegza are challenging scandal-plagued incumbent Chris Collins.
While the district originates in Erie County and covers surrounding rural counties, it does include Hamlin, Wheatland, Rush, and Mendon, as well as the southwest corner of Clarkson.
The 27th District race has been an odd one. Collins got hit with insider trading and fraud charges in August and initially vowed to continue his campaign. He then stepped back so Republican leaders could try to replace him on the ballot, but then renewed his campaign, apparently at the advice of his defense attorneys.
And yet the most recent Siena Research Institute poll shows Collins and McMurray neck and neck in the Republican-leaning district; Piegza polled in the single digits.
Collins was the first member of Congress to publicly support Trump's presidential bid. The businessman and former Erie County executive is focusing his campaign on cutting taxes, preventing growth in entitlement programs, and balancing the federal budget.
McMurray is a lawyer and former Fulbright Scholar who studied the development of a constitutional democracy in South Korea. As an attorney, he's represented US business interests in Asia, according to his website. He's highlighting some of his successes as Grand Island supervisor, such as the removal of toll barriers on the North and South Grand Island Bridges. And he's stressed that he'll listen to his constituents, something he and his supporters say Collins hasn't done. And he says he supports a Medicare for All health care program.
Piegza, who started the information technology company Gap Technologies, is running as a conservative alternative to Collins. He wants fewer "burdensome regulations" on businesses, tax breaks for businesses with fewer than 50 employees, and a balanced federal budget. On his website, he says the recently Republican tax plan will not help the national debt.
New Yorkers also have a Senate race to vote in. Incumbent Democrat Kirsten Gillibrand faces a challenge from Republican Chele Farley, a partner and managing director in Mistral Capital International, an investment firm that specializes in the real estate and energy industries.
Gillibrand took over as New York's junior senator in 2009, after she was appointed to the seat held by Hillary Clinton, who was stepping down to serve as President Barack Obama's Secretary of State. She served the remainder of Clinton's term and was elected to a full term in 2012.
New York has more than 6.2 million registered Democrats and more than 2.8 million registered Republicans. By the numbers, and based on sheer visibility, the odds are with Gillibrand.
But Farley and her allies are still going after Gillibrand. Farley attacks Gillibrand as weak on foreign policy because of her support for the Iran nuclear deal, and says she's been ineffective at recovering the $48 billion New Yorkers send to the federal government each year through taxes.
Gillibrand is emphasizing her support for things such as paid family leave, equal pay, federal anti-terrorism funding for New York, Medicare for All, federally provided health care for 9/11 first responders affected by toxins at the World Trade Center site, and protecting women's reproductive rights.
A recent Quinnipiac poll shows Gillibrand leading Farley 58 percent to 33 percent among likely voters.