Organist Fred Costello celebrates 40 years with the Rochester Red Wings
It's the bottom of the ninth. Bases are loaded. The fans are on the edges of their seats, restless, noisy, and anxious on a cocktail of beer and fingernails. You can taste the tension. The batter walks up to the plate, focused and determined. The Rochester Red Wings need this badly. The slugger swings.
"Strike one!"
"Strike two!"
"Ball one!"
Looking down from his perch way up in the stadium, organist Fred Costello senses the urgency, and his organ signals the battle cry. The audience takes the cue and responds thunderously.
"Charge!"
The pitch ... the swing ... This is a scenario that's gone on for the last 40 years with Costello providing the Red Wings' soundtrack. And in that time, unbelievably, the man has never missed a game. Not one.
"I'm at 2920 games straight," Costello says. "I haven't missed a game yet. In fact about 20-some years ago, we had a front office softball team; we'd play radio stations and stuff. Well, I caught a line drive and broke my finger. I still didn't miss a game. I put a splint on my finger, and I played that night with nine fingers."
Costello's history is a storied one of baseball and jazz — swinging bats to swinging music. He's way beyond your stock example of cool.
Originally from Syracuse, Costello spent 11 years on the road as a working musician, playing 43 states during that time, mostly out West.
"I played Vegas," he says. "I played Sinatra's Cal Neva Lodge in Lake Tahoe with Trini Lopez, the Playboy Club in Hollywood — that was a kick — the Fremont Hotel with Wayne Newton. I did the whole circuit. It was a show group called The Profiles, a Vegas lounge act; five guys and two girls. I did a lot of jazz gigs, too."
He covered a lot of miles in those days. "It was never a hassle for me," he says. "I loved every minute of it."
In 1965, Costello met and married his wife, Cathy (who is originally from Rochester), in West Hollywood. Since Costello was booked out of West Hollywood, they planned on settling down there. It was perfect until...
He booked a gig in the Bahamas and took his new bride with him, planning a stop over in Rochester to see her folks and his in Syracuse. Along came the stork.
"We got pregnant in The Bahamas," Costello says. "And we decided to have the baby in Rochester before heading back West. Well, I booked a six-week gig at Val's Lounge on Monroe Avenue," which is now the Otter Lodge.
"We became the hottest group in town. We stayed there for three and a half years, six nights a week. Five nights were with my trio; the sixth night was jazz night, and I brought in Lew Soloff from Blood, Sweat and Tears, Slide Hampton, Chuck Mangione."
Remember, he was just visiting. They were still planning on going back to California, he says. "But now I've got a couple of kids."
Costello recalls one phone call he made in Rochester that changed his whole life.
"I'm reading the paper one morning, and I see the Red Wings got a new general manager, Don Labruzzo," he says. "And as a kid growing up in Syracuse, I wanted to be a ball player. So I called Don and said, 'What do you think about having music at the games?' And he said, 'Wow, we've never done that before. Let's do it.'" Costello signed a one-year contract with the Rochester Red Wings. It was 1977.
"Cathy said, 'I thought we were going to live in California,'" Costello says. "She's still waiting. That one phone call changed everything. If I didn't go with the Red Wings, I would have gone back to California."
Costello found himself off the road and in the ballpark. He had to modify his musical approach slightly.
"It was a transition," he says. "But what I did, and the reason I think I've lasted so long, when I took the job with the Wings is I didn't want to sound like other organists. They sounded like they were playing roller skating rinks, kind of old-fashioned. I decided the crowds were the same people that were coming to the clubs; there was a wide age range, so I did a wide range of things."
And he still does — blues, jazz, Top 40. So on any given night, you're bound to hear anything from Mancini's "Baby Elephant Walk" to something from Bruno Mars.
With his hip jazz riffs to old school renditions of classics, Costello reads the game, plugging in when and where it's necessary. The crowd claps, shouts, and sings accordingly. And more than one team has tried to woo Costello away from the Wings. Nothing doing. He's received pitches from the Mets, the Yankees, the Rockies, and the 76ers.
"I turned them all down," he says. "It's like a big family here."
After 40 years at it, Costello roles with the changes, like when players choose to walk up to the plate for their turn at bat to canned music and not Costello and the organ.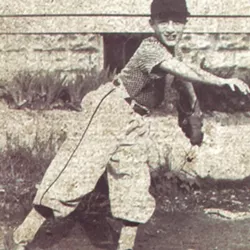 "That's the new thing," says Costello. "Every player has to have his song, and if he's in a slump, he's gotta change the song." This doesn't bother him in the least.
"I play a lot," he says. "I get a free hand to pretty much do whatever I want. They give me a lot of spots to play. It's funny, growing up I wanted to be either a ball player or a musician. I've got the best of both worlds; I'm a musician at a ballpark."
He still plays in clubs, particularly in the off-season. For the last five years, he's had a residency with saxophonist Roger Eckers at Charlie Brown's in Penfield. But he laments, pining for the scene he came up in.
"It's so different now from when I came to town," he says. "30 years ago, you played 9 p.m. to 2 a.m., six nights a week. Now you play one night here, then one night there.
"When I played Ben's Café across from Eddie's Chop House, within walking distance there was something like seven clubs going six nights a week. Now our gigs are like 7:30 p.m. to 10 p.m., or 6 p.m. to 11 p.m. I come home now and my wife says, 'What are you doing home? You used to leave at this hour.'"
All the hard work and talent hasn't gone unnoticed. The Red Wings are celebrating "70-ish" Costello's 40 years in baseball with a commemorative Fred Costello bobble head.
"You know," he says. "Throughout my career, I've done some really nice things: working in Vegas, some national TV. You work hard at it, and you feel like you've accomplished something. People couldn't care less; they're so enthused I have a bobble head. It's like you've finally made it. People are more impressed with the bobble head than anything else I've done in my life."