Garbage plates, nachos, donuts, burgers: they hit our palates' bliss points, but miss the good-for-us target entirely. Sating those cravings in a way that won't result in a food hangover is no small feat. Yet this is what The Red Fern, the all-vegan and frequently gluten-free restaurant at 283 Oxford Street, aims to accomplish.
"Often people have a preconceived notion of vegan and/or gluten-free, thinking it's just salads, or it's bland or dry, or it's just some spicy brown mush," says Andrea Parros, owner and operator of The Red Fern. "We set out to change those preconceptions."
It's difficult to approximate the creamy lushness of cheese or the chew and pull of steak without using milk or beef. Still, The Red Fern is worthy of attention from vegans, carnivores, celiacs, carb-lovers, and eaters in between.
PHOTO BY THOMAS J. DOOLEY
Vanilla rainbow, chocolate covered strawberry and peaches, apricot, and cream donuts at The Red Fern.
The compost plate ($10) is the restaurant's winking take on the Rochester staple. Like the original, it begins with a bed of sides: macaroni salad and sweet potato salad. The mac salad is faithful in flavor to the standard, swapping out vegan-friendly mayo and fusilli for elbow macaroni. The sweet potato salad is brightly peach-colored and creamy; it's almost mashed, but there are enough hunks of flesh to give the salad texture. It's slightly sweet but not much more than white potato salad, which gets its sweetness from the sugar added to commercially prepared mayonnaise.
Topping the salads is your choice of protein. I chose the Italian sausage, which tasted and chewed like a typical pork version. The biggest difference was its moisture. With no pork fat, the vegan sausage isn't juicy, though it is far from dry. On top of it all is The Red Fern's version of hot sauce, which does an admirable job living up to the flavors of the original. It's warm and tomatoey with kicks of what I think are cumin and cinnamon. On the whole, the compost plate is a good choice when you're craving a garbage plate but don't want to feel like garbage after the meal is over.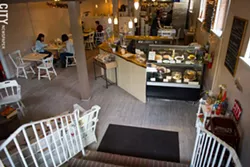 PHOTO BY THOMAS J. DOOLEY
The Red Fern's interior is light and airy for a relaxed atmosphere.
The handful of breakfast items on the menu are served all day, including the French toast ($8.75). Three hefty slices of salted focaccia bread are cut on the diagonal and stuffed with a chocolate soy-based cream cheese. They're doused with a generous amount of local maple syrup and a dusting of powdered sugar. The French toast is just as filling and decadent as it sounds. Bring your sweet tooth, and perhaps someone with whom you can share breakfast.
Kale chips ($3), one of the more on-trend ways to prepare the on-trend vegetable, are available, too. When my step-kids were small, they took to calling kale chips "popcorn lettuce" — not only is it light, crisp and salty, but you can't stop at just one piece. The Red Fern's kale chips are even better. They're dusted with nutritional yeast which, to read, doesn't sound that enthralling. Tasting makes all the difference; the yeast adds nutty, rich and cheese-like flavor notes. Combined with the kale's light crispness, it's a snack that is gobbled and gone before you know it.
PHOTO BY THOMAS J. DOOLEY
The lentil burger from The Red Fern.
There are plenty of desserts to try, too. Immediately upon entering the restaurant, you are greeted by a bakery case of a rotating selection of cakes, cookies, truffles and donuts — all vegan, many gluten-free. The lemon ginger donut ($4) is redolent of the fruit's and the root's zingy flavors. Flecks of lemon zest are baked in, adding vibrancy and a touch of texture. The donut's consistency is cake-like, but more moist and bouncy than a typical cake donut. It's glazed, then dotted with chunks of candied ginger, which add up to a treat that is just sweet enough to balance out the tartness and prevent lip puckering.
PHOTO BY THOMAS J. DOOLEY
The Red Fern's stuffed French toast.
The restaurant's decor is a bit rustic country, a bit grandma's summer cottage as interpreted by Anthropologie. It is surprisingly light and airy for a space that is partially below street level. There is an ample use of warm whites, pale and unfinished woods, and grapevine and driftwood accents. Mason jar lights dangle from the ceiling, and tiny flower bouquets adorn tables. Parros said thrift stores and estate sales were scoured to find charmingly mismatched plates and glasses; my bill was presented on a floral saucer held in place by a diminutive pinecone. It would almost be too much, too twee, if the service and the food weren't down-to-earth and friendly.
The restaurant's name is inspired by Wilson Rawls' novel "Where the Red Fern Grows" and the Native American legend referenced within. "[The red fern] is symbolic of eternal love and peace," says Parros, who wants that ethos reflected in her restaurant. "My hope is for people to leave satisfied and happy."
Whether you come for conversation, a glass of on-tap kombucha, or a hefty slice of non-dairy cheesecake, you will likely leave gratified.