This episode may go down as the one that restored my faith in "South Park."
Last week, sure, it was funny, and it was nice to be able to laugh with the SP crew again after the extremely lackluster first half of the season last spring, but it wasn't creators Matt Stone and Trey Parker at their best.
This week was.
The story centered on South Park Elementary's brand new gossip site, Eavesdropper, mirroring both the online school harassment news and good old Wikileaks. Principal Victoria and Mr. Mackey are afraid that the site, and the student mocking of Pete Melman, who shit his pants in class and now is being tormented, might cause him to commit suicide. Oddly enough, they join forces with Cartman to try to help sway the public student opinion away from mocking Melman.
Meanwhile, Stan, who, after ending up on the site himself, decides that it must be stopped. The kids search the school to try to find out who is behind the site, only to find a gerbil typing away furiously at a computer updating the site with more juicy gossip.
It was at this point that I shouted, as I mistook the gerbil for Lemmiwinks, everybody's favorite crawling-out-of-a-gay-man's-ass gerbil. But, not to disappoint, the show soon introduced the new gerbil as Wikileaks, Lemmiwinks evil brother, and Lemmiwinks again found himself on a quest led by talking ghost animals.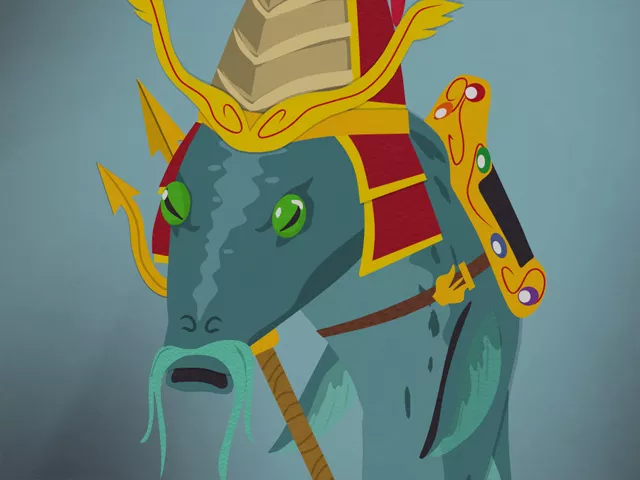 Never go bass to mouth. Ever.
The laugh out loud moments are too good to spoil, but between the Catatafish's hilarious speech about bass to mouth ( a clever pun I can't believe the show has never used before), Lemmiwinks' own 'reluctance' to fight his brother, and how the school faculty decides to throw Cartman under the bus to try to save their own asses, this episode was South Park gold, returning to form and hilarious from start to finish(Minus one Selena Gomez beating that seemed a little forced, that is). Despite the whole Wikileaks tie in being a little less newsworthy, it still worked great, and I'm still laughing and chuckling at just how good this episode was.
To be fair, bringing in Lemmiwinks was pure fan service, but that's exactly what the show, and especially this season, needs right now. This was the hardest I've laughed along with SP in quite some time, and man it feels good to be back.
It's a little too early still to tell how the season will shape out overall, a few good episodes won't make up for entirely for the first half of the season, but if this week's eyes welling with tears of laughter are a sign, SP has found new windin its sails.
And by the Catatafish, I really want the Lemmiwinks battle song on my iPod.